Joined

Jun 25, 2010
Messages

7,392
Reaction score

6,795
After nearly half a century it is finally revealed!
ARE they gay? There has long been speculation about two of Sesame Street's favourite characters. Now it's been settled.
DECADES of speculation over two of Sesame Street's most famous characters — Bert and Ernie — is over.
One of the iconic show's writers has revealed that they were indeed written as a gay couple.
Joining the Sesame Street team in 1984, Mark Saltzman told
Queerty
the two beloved characters reflected his own same-sex relationship with film editor Arnold Glassman at the time.
He said that he wrote them as a loving couple, and felt that he didn't have any other way to portray them.
"I remember one time a preschooler (in San Francisco) turned to her mum and asked 'Are Bert and Ernie lovers?' and that, coming from a preschooler, was fun," he said in the interview.
The pair were rumoured to written as a gay couple for years. Picture: Supplied
Source:Supplied
"That got passed around, and everyone had their chuckle and went back to it.
"And I always felt that without a huge agenda, when I was writing Bert and Ernie, they were. I didn't have any other way to contextualise them."
The news had been a long time coming for many in the LGBT community who see Bert and Ernie as gay icons.
According to
Pink News
, after same-sex marriage was legalised in New York, fans of the show even set up a petition on change.org asking for the show's creators to have Bert and Ernie get married on screen.
However, Sesame Street then released a statement in response, saying that the characters were "best friends" and were "created to teach preschoolers that people can be good friends with those who are very different from themselves.
"Even though they are identified as male characters and possess many human traits and characteristics (as most Sesame Street Muppets do), they remain puppets, and do not have a sexual orientation," the statement read.
The charismatic puppet pair also found themselves at the heart of a
fierce debate about discrimination and religious beliefs in 2015
, when a baker in Northern Ireland refused to bake a cake advocating gay marriage with their faces on it.
Mr Saltzman also told
Queerty
people at the time would himself and Glassman as Bert and Ernie.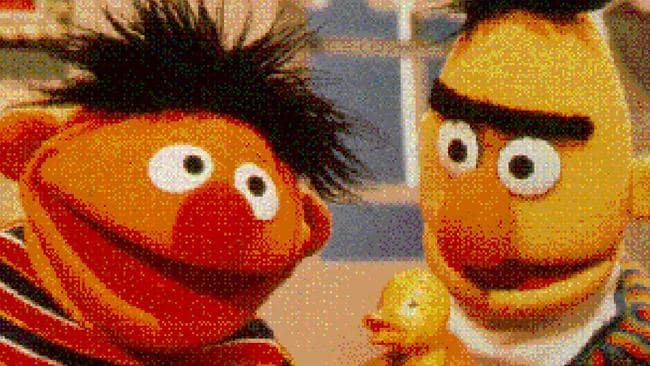 Mr Saltzman said Ernie was based on him. Picture: Supplied
Source:News Limited
"Yeah, I was Ernie," he said.
"I look more Bert-ish. And Arnie as a film editor — if you thought of Bert with a job in the world, wouldn't that be perfect? Bert with his paperclips and organisation?
"And I was the jokester. So, it was the Bert and Ernie relationship, and I was already with Arnie when I came to Sesame Street.
"So I don't think I'd know how else to write them, but as a loving couple. I wrote sketches … Arnie's OCD would create friction with how chaotic I was. And that's the Bert and Ernie dynamic."
https://www.news.com.au/lifestyle/g...r/news-story/09fb5dd3bfc9e25cbd6ad2ce05267174