Roosters are reportedly offering Mitchell 800K a season to re-sign. IF true we got no hope unless we're prepared to offer at least a MIL. I was really confident of getting him a few weeks ago but from other stories I've read today (disagreement by board members, board members trying to save 100K) I'm really concerned the board are going to stuff it up
Chooks ready to talk turkey with Mitchell but is $800K enough?
Roosters management are aiming to bring Latrell Mitchell's contract matter to a head this week. There is likely to be a high-level meeting to sort through what is becoming a messy saga. If you listen to those close to Mitchell, he is said to be insulted by the offer of $800,000 a year from the Roosters and is seriously considering moving on.
He has won two NRL premierships and played for his state and country. He is now aiming to look after his family, and money is a bigger factor than ever as he is already a dad and has another child on the way.
His first choice if exiting would have been Newcastle – the club nearest to his home town of Taree. Without an offer from the Knights, the Bulldogs may be an option.
RELATED ARTICLE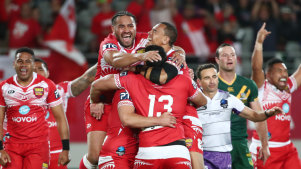 TONGA 16 AUSTRALIA 12
IRL
Tonga stun Australia in one of the greatest upsets in Test history
The Roosters have heard talk of his dissatisfaction. Mitchell is said to have his nose out of joint that he didn't receive the praise that James Tedesco and Luke Keary received after the grand final, and it's something that coach Trent Robinson will have to deal with when he meets with him this week.
The $800,000 is as far as Roosters are willing to go and they are comfortable with their support of Mitchell over his time at the club. But the Bulldogs are prepared to offer the star centre more than $1million a season. The Bulldogs say they won't go near $1.4m, as has been suggested. Meanwhile, the situation surrounding Mitchell remains hectic. He has a new manager, Wade Rushton, but those close to him are urging him to use Mario Tartek.
Canterbury Leagues club board member George Khoury met with Mitchell and that's where he started to consider the big money elsewhere. Khoury was chastised by the Dogs for the meeting.