There's no bling and he lives in a four-bedroom home in suburbia, yet Johnathan Thurston has created a business empire that has made him millions and he wants to inspire others to do the same.
James Phelps
9 min read
September 12, 2021 - 6:28PM
News Corp Australia Sports Newsroom
NRL: In addition to hosting the Grand Final, for the first time in league history, Queensland will also host the entire Finals series.
Johnathan Thurston fired off three words when his manager told him he would be given an allowance of just $400 a week.
"Are you serious?" he said.
Washing cars for 11 dollars an hour 12 months before
, Thurston was suddenly rich. He had just received his first payment from the Cowboys. He had made more in a month than he was used to making a year.
"Na," he continued. "You are taking the piss"
His manager was not. Sam Ayoub was stone cold serious when he told the kid that had just signed the $738,000 three-year deal that he would have to live on shelf packing money. That the rest would be invested.
Fast forward 16 years
and Thurston is sitting on a financial empire that includes a fifty per cent share in an airline. With more contracts than he had when he was playing, he owns eight properties, a $500,000 Mustang, and has a multimillion-dollar share portfolio. And guess what?
"My allowance has gone down by $100," Thurston revealed.
The race to the 2021 NRL Telstra Finals Series is on and every game matters. Watch Live & Ad-Break Free on Kayo. New to Kayo? Try 14-days free >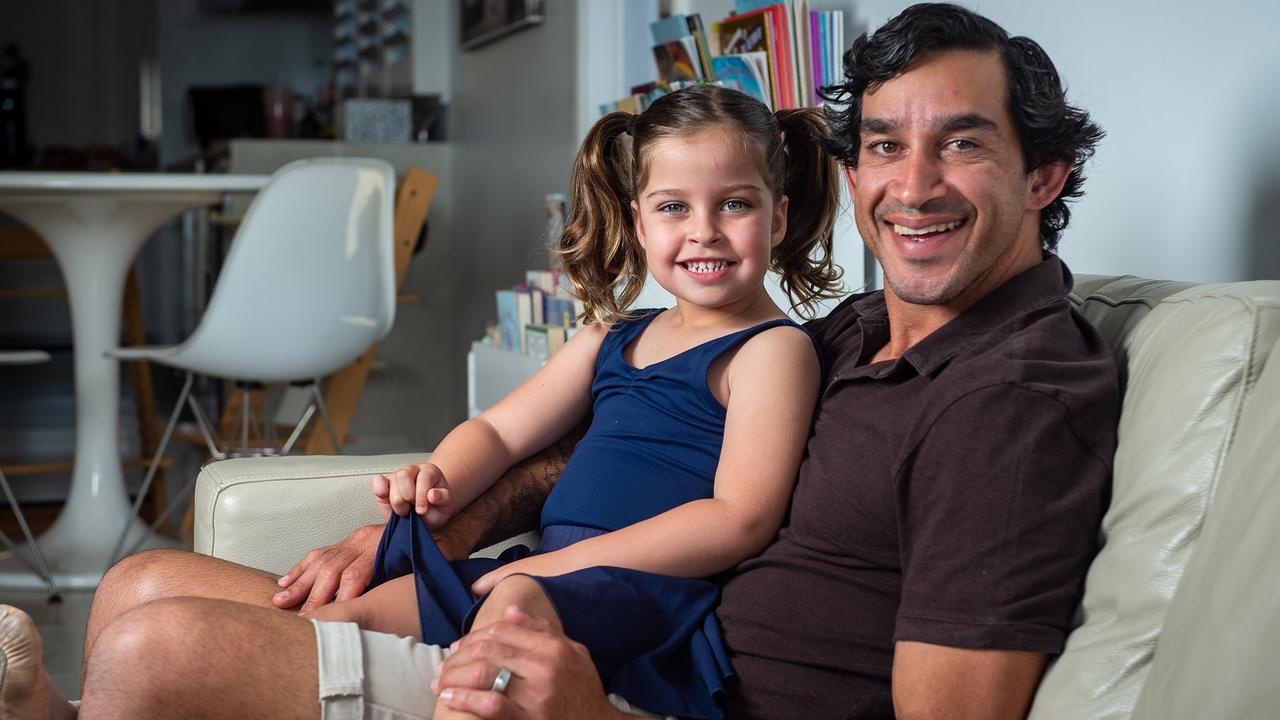 NRL and former North Queensland Cowboys rugby league great Johnathan Thurston at his home with daughter Lillie.
"Not sure how or why but I'm now on $300 a week."
Arguably the game's greatest player and rugby league's first ever million dollar a year man is now given a weekly allowance which is less than what he earned when he worked as a butcher's apprentice. The rest is reinvested into his fast-growing fortune.
Speaking for the first time about his finances in a bid to inspire NRL players to plan for life after rugby league, Thurston has revealed the never before told sacrifices that have helped him become the NRL's most successful post-football product.
"I'd like every player to start preparing for their post NRL career the same way they prepare for their football," Thurston said.
"If they can show the same sort of commitment and determination as they do when it comes to their training and preparation for football then they will be successful in whatever it is they choose to do.
"I know it is hard to think about anything other than football while you are playing but I would encourage them all to have a plan that they are working towards."
Life after NRL, Part One: How Beau Ryan built $15m empire
Life after NRL, Part Two: How a league battler became a national TV star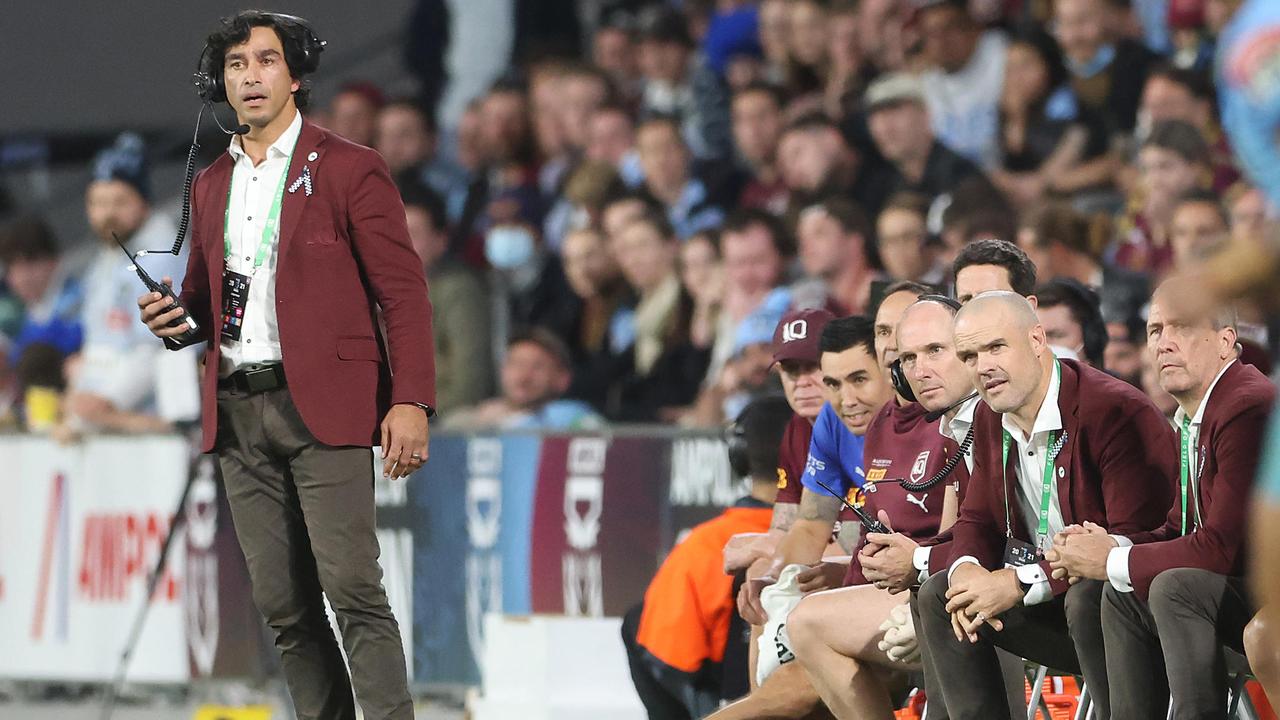 Johnathan Thurston on the sidelines during this year's Origin series. Picture: Peter Wallis
Cleaning cars and cutting meat
Thurston was not always a superstar, which is a big factor in his financial success.
"I always felt like I had to work harder than everyone else," Thurston said.
"Nothing was ever given to me. And I think it was those rejections early on that gave me the work ethic that I still have today."
Let's start with the rejections.
"Too small," they said. "Can't tackle. Will never make it."
The skinny kid who would go on to become one of the game's greatest players was knocked back by the Broncos first and the South Queensland Crushers second. He also failed to make the Australian schoolboy's team. But instead of quitting he got to work, practising his passes and perfecting his kicks. He also signed up to play A-Grade for the Toowoomba All Whites.
Too small? Can't tackle?
He would prove them wrong by playing against men.
He also became a butcher.
"My first job was as a butcher's assistant," Thurston said. "I worked in a freezer at the back of Coles mopping the floors and carrying boxes of meat."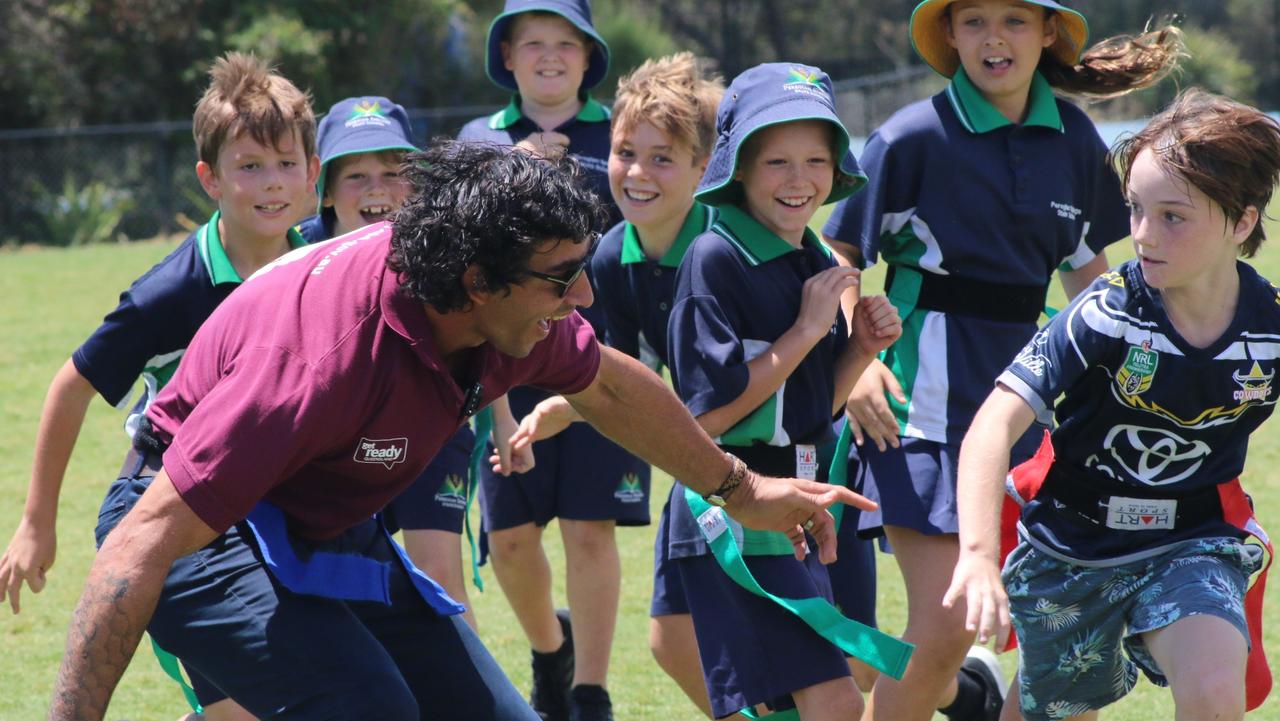 Thurston during a school visit to promote the game of rugby league. Picture: Tom Threadingham
Next came a play for nothing contract that came with another job that was almost as bad as the last. "I packed everything I owned into my year six cricket bag and went straight to Sydney when the Bulldogs offered me my chance," Thurston said.
"I didn't care about money. I just wanted a shot."
Thurston spent his first year as a Bulldog sharing a bedroom in a group house and working in a car yard.
"I got up at sunrise every morning and walked to Pickles Auctions at Belmore," Thurston said. "I worked there from 7am until 3pm washing cars and then went to training."
Thurston also laid bricks in Brisbane during his first off-season in experience that furthered his work ethic.
"I have no doubt it helped make me who I am," Thurston said.
"I always tried to work harder than everyone else on the field because of what I had experienced before."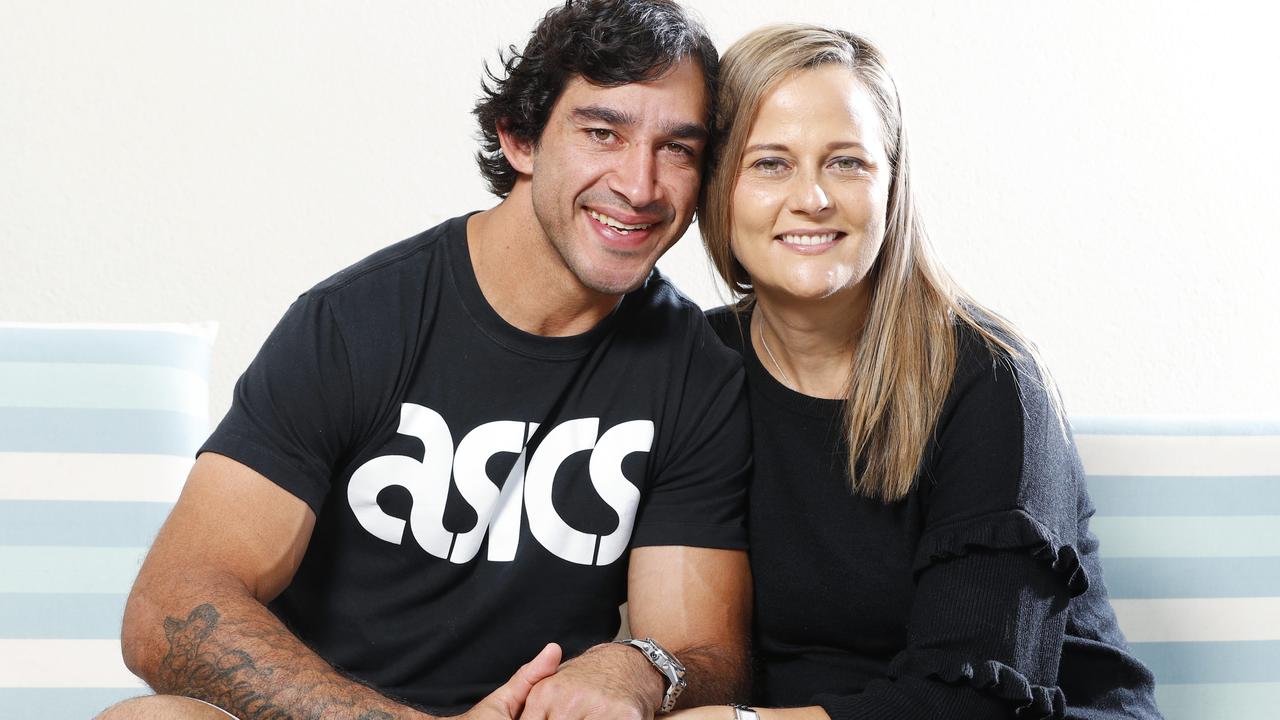 Thurston with wife Samantha before his last NRL game. Picture: Lachie Millard
MILLION DOLLAR MODESTY
Thurston's early experiences have stuck with him. Never forgetting where he has come from, the rugby league royal lives modestly. While the mining magnates and building tycoons of Townsville live in multimillion-dollar mansions on the cliff tops of Castle Hill, Thurston lives in a four-bedroom home in suburbia.
He has one living room, an office that has been converted to a trophy room and a kitchen that is way too small now that he has four kids, beautiful girls named Frankie, Charlie, Lillie and Remie.
"But it's close to the golf course," Thurston says with a laugh. "That's all I cared about when I bought it."
Having worn a rented suit when he claimed his first Dally M, Thurston is not one for spending his money on clothes. He almost exclusively dresses, head to toe, in garb given to him by sponsors. And he doesn't own any bling — unless you include all his premiership rings and trophies.
Thurston's only extravagance is a 1967 Ford Mustang Shelby GT 500 Super Snake. Just one of 50 ever made, it has an estimated value of $500,000
Much to the disgust of
his wife Samantha,
Thurston secretly spoiled himself by buying the car as a retirement present in 2017.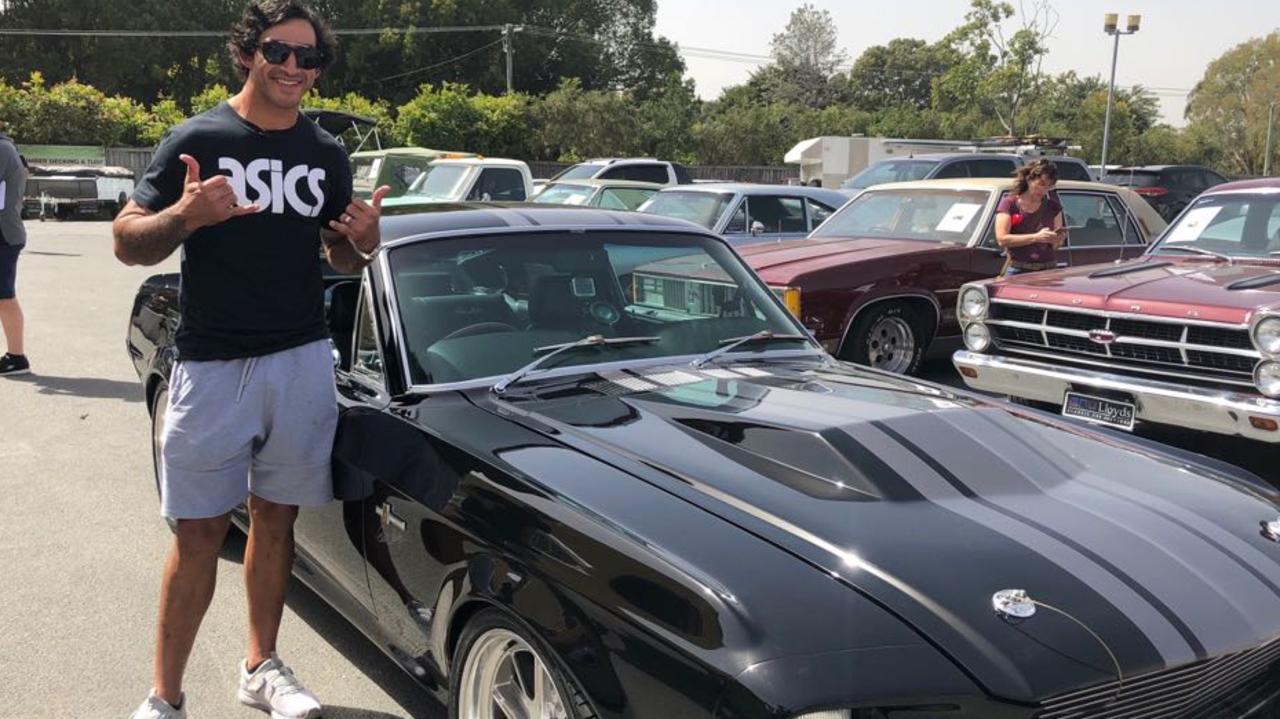 Thurston with his 1967 Ford Mustang Shelby GT 500 Super Snake, one of only 50 in the world.
"It cost me a trip to the Super Bowl with Cameron Smith," Thurston said. "That was going to be my retirement present but Sam canned it when she found out about the car."
Don't expect to find the Mustang in Thurston's garage — his house doesn't even have one. But you will find his other car in the driveway; a second-hand Toyota.
Thurston earned as much as $1.2 million dollars, excluding sponsorships and third-party deals, a year in a career that spanned 16 years.
And in a lesson to the long list of NRL players who go from rags to riches, Thurston, excluding the Mustang and all the dance lessons he has bought for his daughters, has invested it all.
"I began investing as soon as I came to the Cowboys," Thurtson said.
"I wasn't too happy about the allowance at the time but it was the best thing I could have done. I bought my first unit in 2005 and I am now in a good position thanks to having a financial plan."
Thurston has acquired a 50 per cent share in Cairns airline Skytrans. Picture: Brendan Radke.
JT AIR
In a handshake deal, Thurston officially became the co-owner of an airline when he was given a 50 per cent share of what would become a multimillion-dollar transportation company.
In a never before told story, the Sunday Telegraph can reveal that Thurston used nothing more than his profile to obtain a 50 per cent share in North Queensland airline Skytrans.
"I had been mates with Johnno since he moved to Townsville," said aviation entrepreneur Peter Collings.
"I bought Skytrans in 2015 and I thought Johnno would be a perfect ambassador to help us relaunch. It was a great fit for both him and us. We did it (the fifty per cent share deal) on a handshake. We trust each other and the deal has worked out for the both of us."
Worth almost nothing when Thurston did the deal, Skytrans now employs a full-time staff of 80, has a $25 million contract with a gas company, and has 11 aircraft with operations in Cape York, Brisbane, and the Torres Strait.
"We have already done some good things and I want to help the company grow," Thurston said.
"We believe the company can go national and that is what we are working towards."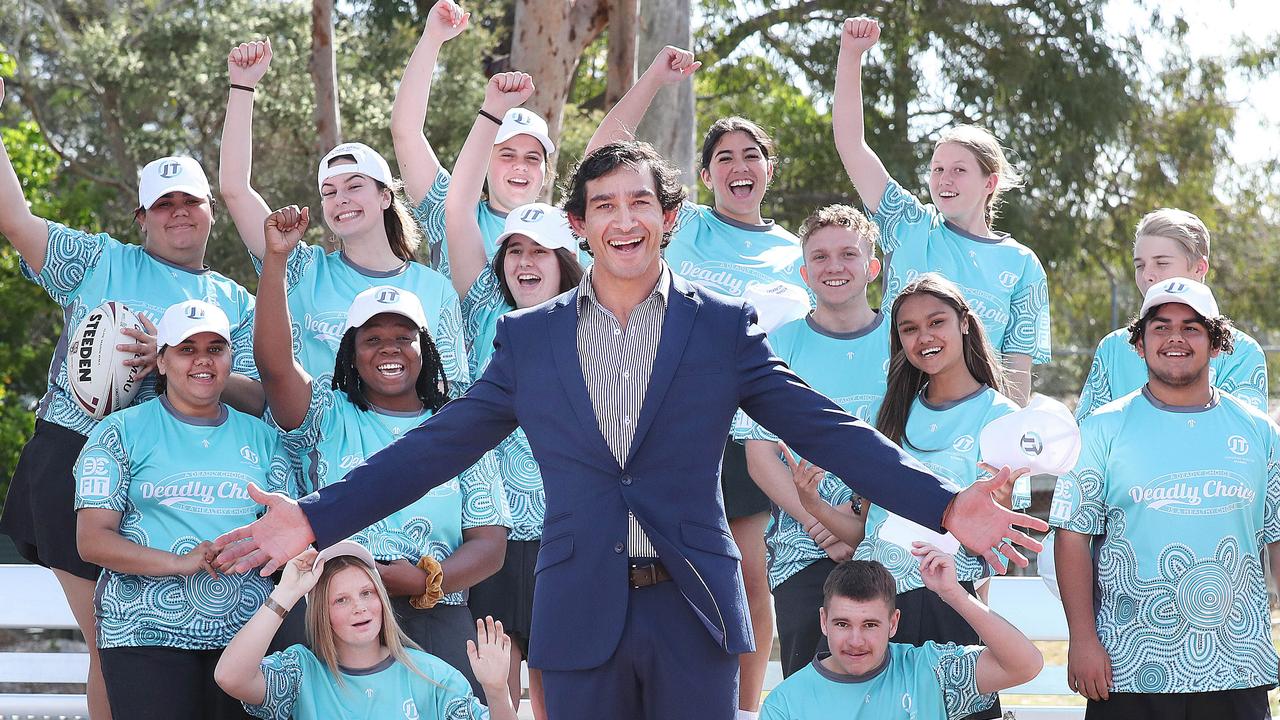 Thurston continues to open doors for youth through his charity organisation. Picture: Annette Dew
THE JT ACADEMY
It was the question that Thurston could not answer.
"Who are you?" Indigenous campaigner Dr Chris Sara asked on the eve of the first All Stars clash in 2010. "And where do you come from?"
So fresh from winning the Preston Campbell medal in a man of the match performance, Thurston went searching for the answer.
"I took some time out and travelled out to where my mother was raised," Thurston said. "I travelled out to Mitchell, which is about 600km west of Brisbane. I felt a connection to the place as soon as I arrived and I had a very emotional experience learning about my family and what they had been through."
The seeds for what would become the Johnathan Thurston Academy were sown during the life-changing trip.
"The kids out there didn't have the same opportunities that I had taken for granted," Thurston said. "So I made a promise to do what I could to help."
The Johnathan Thurston Academy was launched in 2018. The charity organisation has since educated, trained and employed over 300 young men and women.
"There are two sides to the Academy," Thurston said.
"The first is helping disadvantaged kids with education and the second is helping them gain employment. We have a number of programs which have proved really successful thanks to some incredible partners. Our dream is to have the kids that go through our programs to go and work for our partners. We have jobs available in all sorts of industries and in all sorts of roles.
"We have recently gotten into the justice space working with high risk kids. We are trying to help them turn their lives around. Trying to help them make better choices so they can succeed."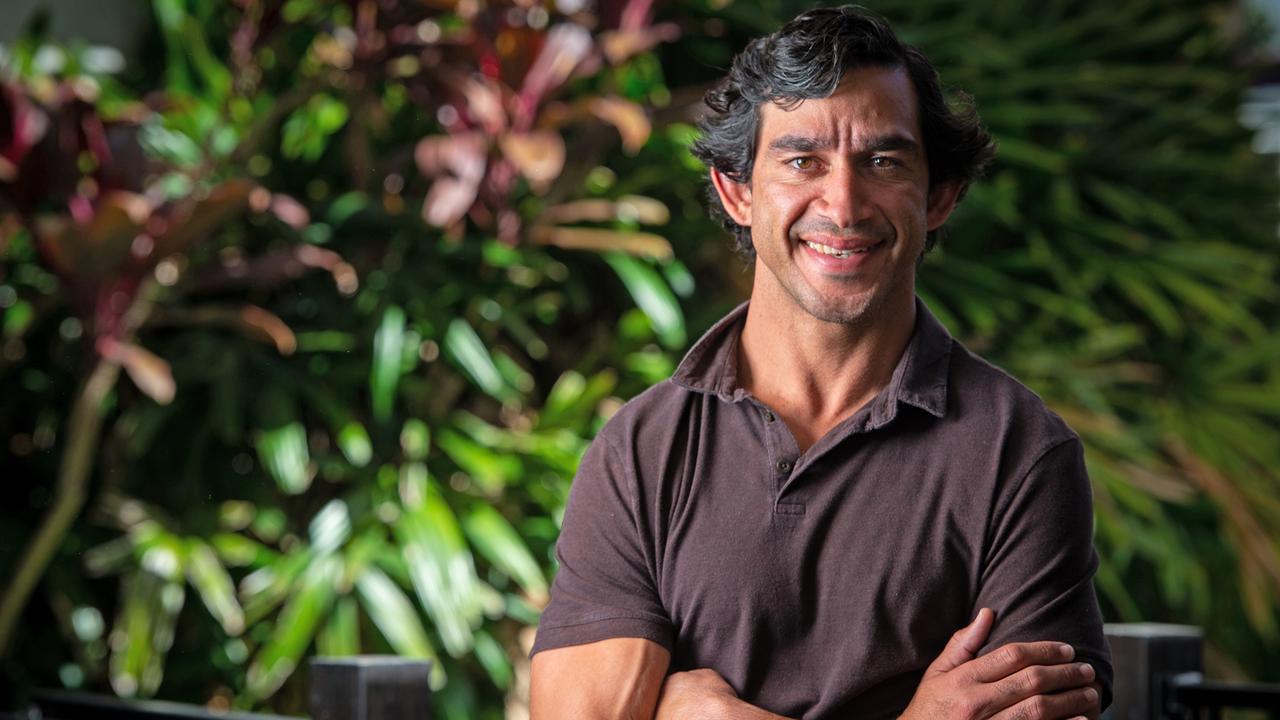 Thurston says it is important for all NRL players to invest in their future because everyone has to eventually hang up the boots.
MIRROR IMAGE
Unlike most, Thurston did not have to plan for life after rugby league. Thanks to big contracts and his investment strategy, he could have retired aged 37. His status as an Immortal in waiting also meant he was knocking back jobs that he hadn't even applied for. And he makes no apologies for the money he has earned or the opportunities that have come his way because of his football.
"I worked extremely hard to get to the top when it came to footy so I felt safe that I was going to have a long career and earn good money," Thurston said. "The hard work rewarded me with good contracts and also options. I had put myself in a position where a media career was possible so working for Channel 9 was my main goal."
But don't think that Thurston did not work hard to prepare himself for his media career. First appearing on Channel 9 midway through his career, Thurston has spent countless hours in front of mirrors rehearsing lines and in media training sessions.
"I was terrible when I started," Thurston, naturally shy and a man of few words, said.
"But with time and practice I got better. The club provided a lot of media training, as did Channel 9 later on. It was experience more than training and I grew in confidence when I learned to be myself."
Thurston said it is important for all NRL players to invest in their future.
"I would encourage every player to do a course or begin learning the skills that they will need for whatever it is they want to do," Thurston said.
"I was lucky to have a long career. Others aren't so lucky. Unfortunately careers can end suddenly and I know that the guys that are unprepared do it tough."
Thurston and with former Cowboys coach Paul Green. Picture: Peter Wallis
MR HARD WORK
Thurston has not had time to miss playing rugby league. Covering at least one game for Channel 9 a week, mostly travelling from Townsville to Brisbane, he also spends time in the boardroom at Transair, works as a Cowboys ambassador, sits on the board at TEQ, and jets all around the country to do work for the other companies he represents, including Suncorp, Get Ready, Drizabone, and Instyle Solar.
More Coverage
Furious Bennett slams Panthers, NRL over 'illegal tactics'
How Matty Johns created NRL's greatest dynasty
"I can honestly say that I have missed playing on a few occasions," Thurston said.
"I struggled a bit watching the grand final in 17 and then the Origin series in 2018. It is the big games I miss, finals and Origin. I have no doubt it would be a lot worse if I wasn't so busy. I am away from home now more than I ever was when I was playing. I think that is also why players need to have a plan. It's not just about money. Being so competitive for so long, they need to ensure they can find a new challenge by way of a career."