Joined

Mar 2, 2006
Messages

1,139
Reaction score

654
Former Canterbury captain James Graham has slammed the "outrage culture" that had crept into the game after being left stunned by the sensational fallout to the Bulldogs' Mad Monday celebrations.
The NRL hit the Bulldogs with a record $250,000 fine on Thursday before the club fined four players - Adam Elliott, Marcelo Montoya, Asipeli Fine and Zac Woolford - a combined $70,000.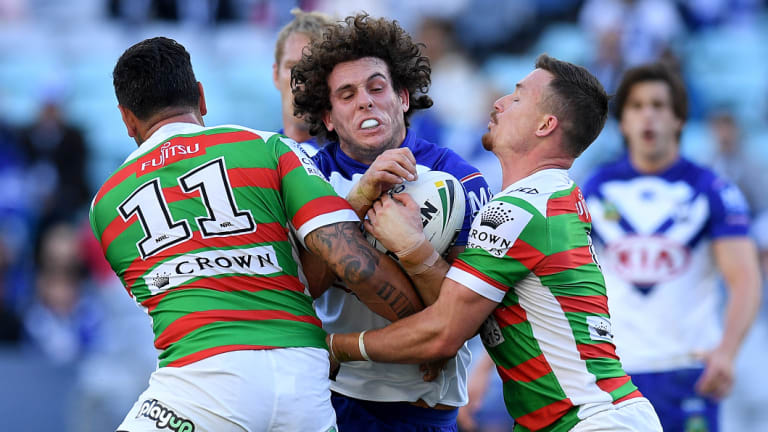 Hit hard: Canterbury's Adam Elliott was fined $25,000 over his conduct on Mad Monday.
Photo: AAP
The sanctions came two days after images of Bulldogs players partying at the Harbour View Hotel in The Rocks were published by News Corp.
Elliott, who was fined $25,000, has found himself at the centre of the controversy after being photographed dancing nude on a table at the pub.
Graham has been taken aback by the firestorm around his former club's Mad Monday festivities and said he had taken time out from St George Illawarra's finals campaign to contact good friend and former teammate Elliott.
"I'm not a fan of the outrage culture, I'm not a fan of the telescopic lenses, I'm not a fan of some of the cheap media that has been around it," Graham said.
"There have been some stories I've read ... it's just so cheap. People need to be careful about what they want and where this sport is going.
"When you talk about having access to players for media and for fans, do you think this will help?"
Graham issued a defence of 23-year-old second-rower Elliott, saying the "past few days don't define who he is".
"He has done so much for the community. He studied for however many years at uni while trying to make it as an NRL player. That's better than what I have done," Graham said.
"The stuff he does for his [autistic] brother, the stuff he does in the greater community .... and the very fact people criticised him by saying he was due to go in for surgery. They don't realise he's been in pain and been putting off that surgery for three months just to get through the season.
"Yet people want to personally attack him for what you could argue was over-indulging. It's also a strange one in terms of why Canterbury's Mad Monday was the only one photographed. There were seven other teams.
"I reckon if you went to every club's Mad Monday you would find something for the outraged mob to be outraged about. Some of the people in the outrage culture don't understand team dynamics and the different people within the team, the personality types and traits, and what makes it click."
NRL chief executive Todd Greenberg said the proposed six-figure penalty reflected the seriousness of the behaviour and the damage which had been caused to the game.
Yet the governing body did nothing to come down on Cronulla pair Josh Dugan and Andrew Fifita a couple of weeks earlier after they embarrassed the game with a foul-mouthed podcast, where they attacked a senior journalist, and Fifita even poked fun at deliberately spilling a row of supporters' beers at a Melbourne game.
Elliott only a couple of weeks ago praised Graham for standing by him when he was trying to break into first grade and recalled how the English prop walked into former coach Des Hasler's office and demanded he play.
While Elliott's nudity in a public bar and the graphic images of players vomiting on the street left the game with a black eye in week one of the semi-finals, Graham pointed out that the Bulldogs were meant to be enjoying a private party.
It has also been suggested it would have been almost impossible to see the players on the third floor of the pub from the street.
"I read an article where a journalist was saying if he had gone in there he'd be intimidated, but he wouldn't have been allowed in. It was a private party,'' Graham said.
"Go somewhere else. If I walked into a pub and it was full of opposing fans from a different club, I'd just walk out, especially if I was getting abuse or felt uneasy. There are plenty of pubs in Sydney."
https://www.smh.com.au/sport/nrl/ja...-that-has-crept-into-nrl-20180906-p5026d.html